Revolutionize your product development with the help of 3D print on demand! Order 3D printing with us!
Bring your ideas to life in no time with us! We are the one-stop shop for all your 3D printing needs! We offer fast and cost-effective 3D printing solutions in Sweden, with high-quality FDM and SLS (resin) 3D printing services that revolutionize product development.


In order to be able to quickly give a quote, attach:

A 3D file in one of the following formats: .STL, .OBJ, .3MF, STEP or other CAD format.
Brief description of how the model is to be used, such as requirements for temperatures, chemical resistance, flexibility, etc
- We usually respond to your quote within 1-2 working days

Are you missing a 3D file? 
Contact us and we will help you design your product or model in CAD.
If you have a sketch to attach, the process goes faster.

Contact us today at:
E-mail: info@3dpart.se
Form: Contact us in the form at the bottom of the page.
Price: Contact us for a quote, the price of 3D printing is based on material, size, complexity, quality and time required.
Delivery time: Delivery times for 3D prints are normally 1-10 working days
(Large/complex objects or 3D prints in Ultra-Polymers such as PEI, PEEK may take longer, delivery times are by agreement).

3D-Print made in PLA filament on flashforge creator 4 3D-Printer


3D Printer technicians we work with:

FDM and SLS (resin) 3D printing at your fingertips
With our state-of-the-art FDM and SLS (resin) 3D printing technology, you can make prototypes and production parts faster, easier and more cost-effectively than ever before. We are located in Väsby, Stockholm, but work is available for deliveries throughout Sweden - just order online!
3D Printing on request
3DPart.se is the perfect solution for when you need a physical 3D object quickly - we offer print on-demand printing services that can handle any size or complexity of projects at the lowest possible cost. In addition, we use materials such as polycarbonate, PEEK, PEI, glass fiber and carbon fiber to ensure that your items are durable and long-lasting.
Cost-effective solutions for everyone
We understand that not everyone has a huge budget to invest in their projects - that's why we offer prototyping using 3D printing that fits everyone's budget. We design and manufacture parts in various plastic materials, also called "polymers".
We can 3D print in plastic materials called ultra polymers, for example PEI, PEEK can meet the same strength as CNC manufactured 3D objects or 3D prints in metal.

Cost 3D printing - from 390 kr ex VAT
Consult with us and we will help you create your models, spare parts and prototypes in the right materials using our various 3D printers. Our 3D prints can withstand temperatures of up to 250 °C. Our 3D prints can also be flexible, water-soluble, resistant to chemicals, ESD-safe, etc
We can also finish the models so that the models have a completely smooth and glossy surface.
Common popular materials used in our 3D Printing service are:

Large 3D Prints in PLA, For models and prototypes
3D Prints in Nylon-CF (Carbon Fiber), Polycarbonate (PC), can replace Aluminium
3D Prints in PEEK / PEEK-CF, can replace Aluminium
3D Prints in UV resistant ASA filament


We help you create all objects with our 3D printing Sweden, please visit us on site to see our 3D prints Stockholm
See additional info on filament material by expanding the respective arrow.
Material types and properties

We stock over 100 different materials and colors (filament).

Our materials and prints can cope with the following:
* Temperatures up to 250°C
* Flameproof
* Resistance to chemicals
* Resistance to UV light
* Withstands mechanical wear
* Flexible materials that can be bent
* Material for food
* Antibacterial materials for healthcare etc
* Certified materials for the aviation, vehicle & defense industry
* Molds etc

Materials available

We make 3D printing with most materials on the market.

For specific colors see our shop and choose from 300+ different filaments.

Price class 1:
PLA, PET-G

Price class 2:
ABS, ASA, PCTG,
Flexible: TPU, 98A, 85A, PLA SILK, Wood filament, PVA

Price class 3:
PA (Nylon PA6, PA12), PP, PC, PC/ABS, Nylon Fiberglass, Nylon Carbon Fiber,
ESD PLA, ESD ABS, ESD PC


Price class 4:
PEKK, PPSU, PEI, PEEK, PPSU, PEKK, HTN+CF (high temperature nylon)

We can print in all materials from eg 3DXTECH, Intamsys and other manufacturers
Share
View full details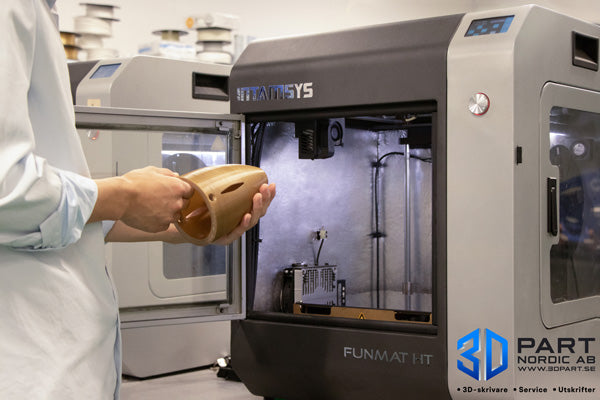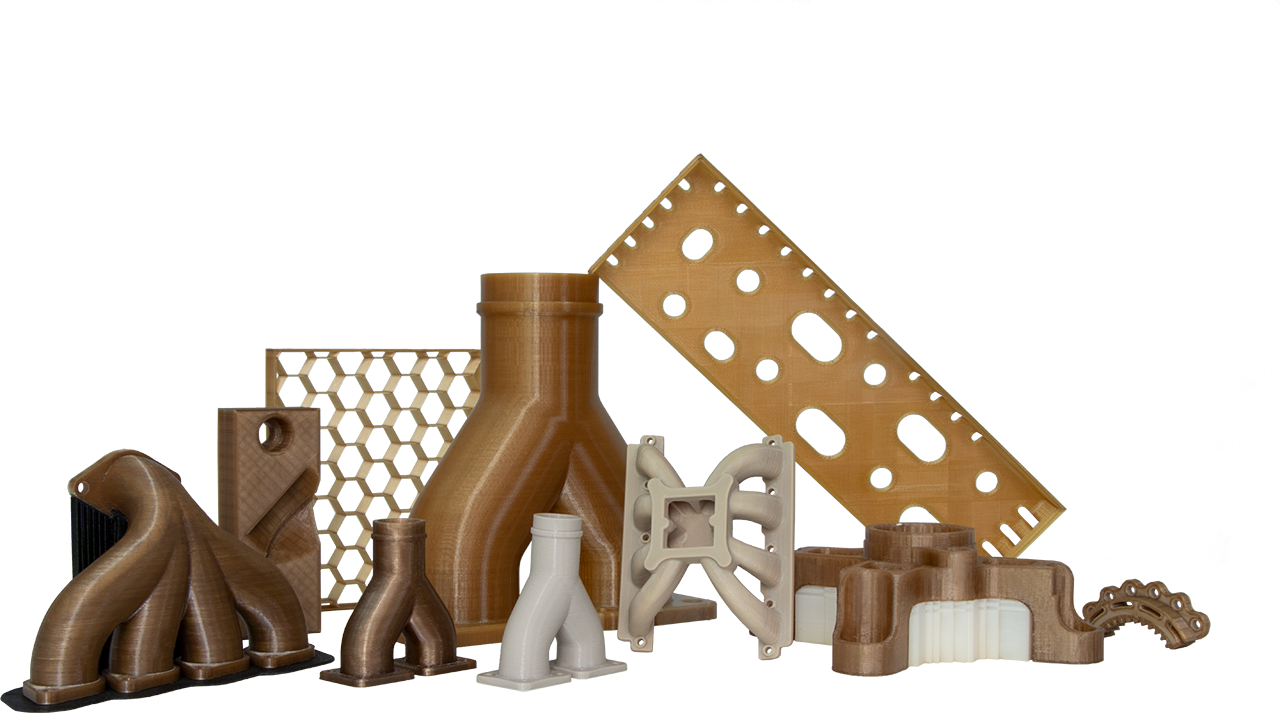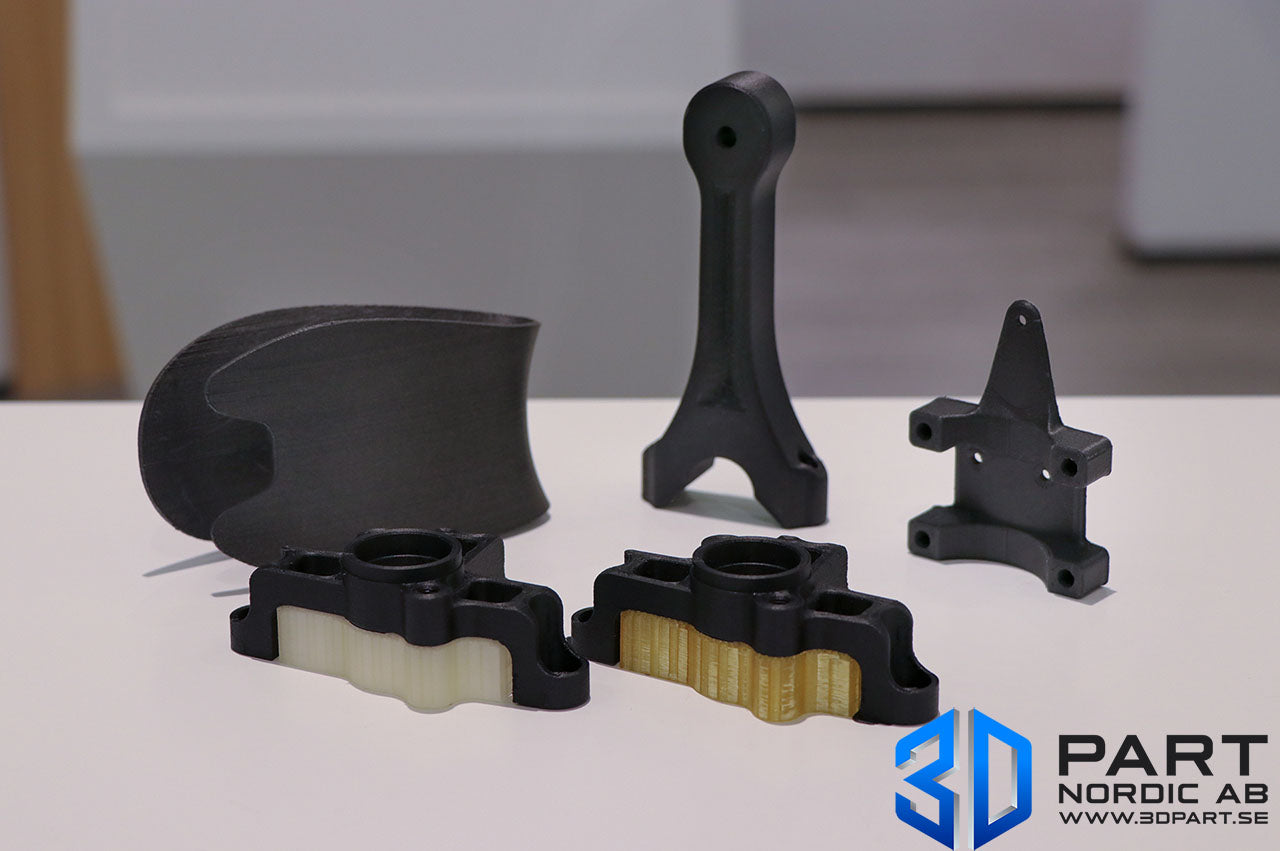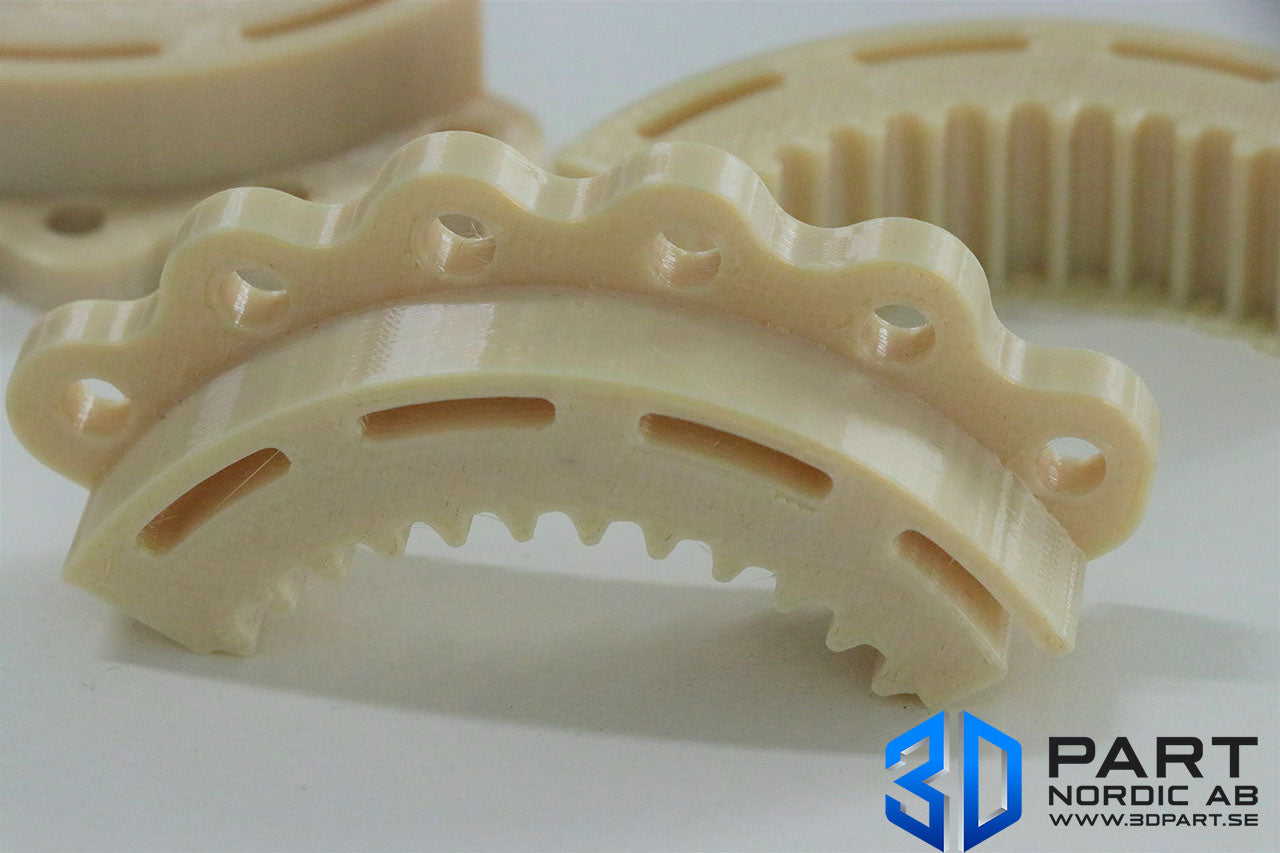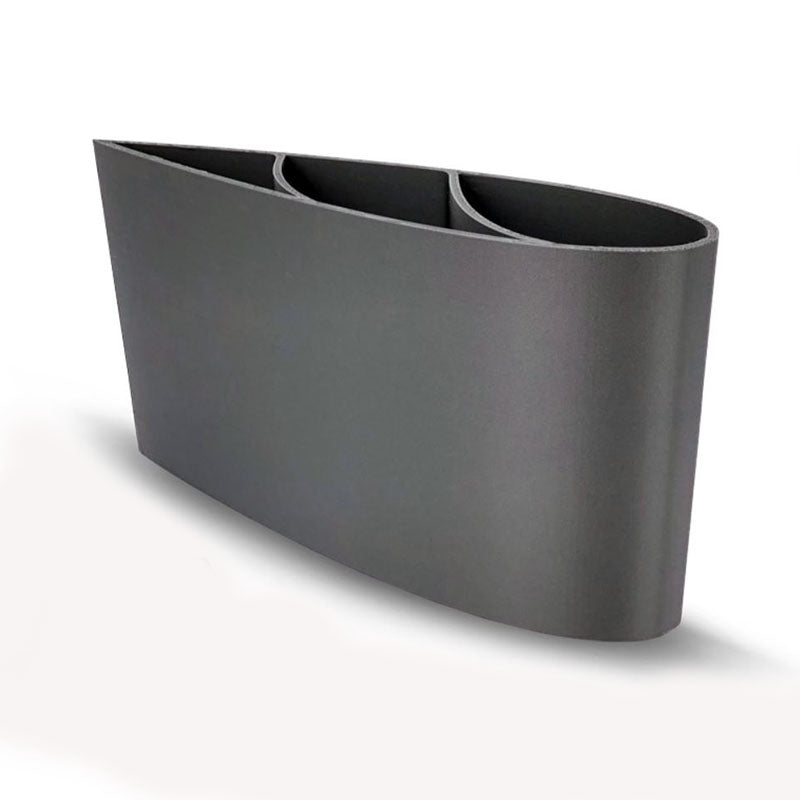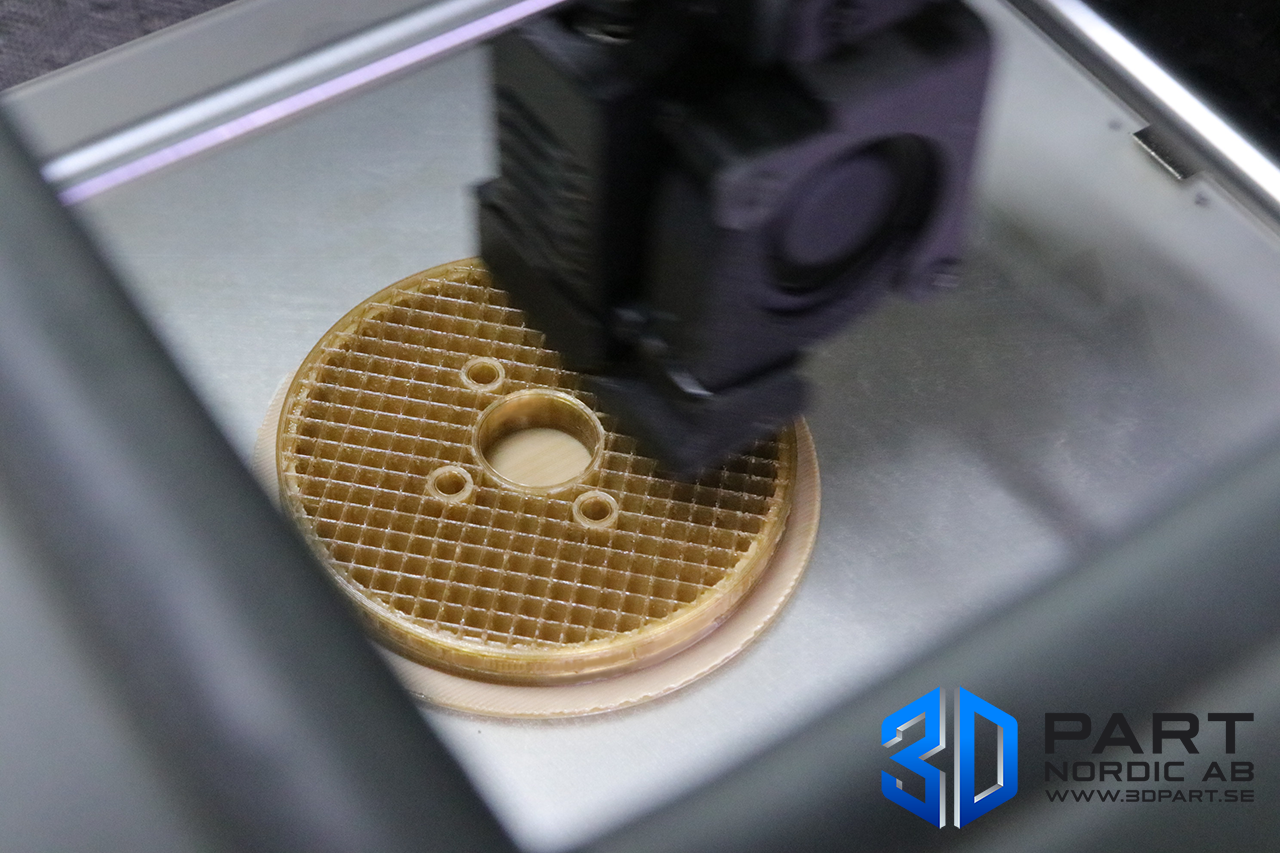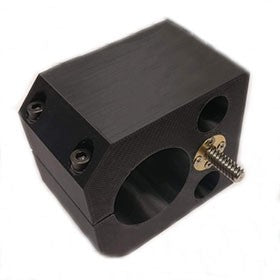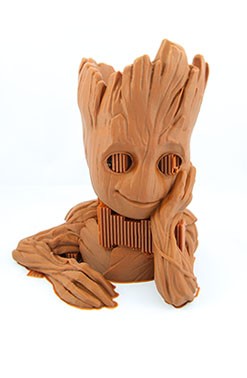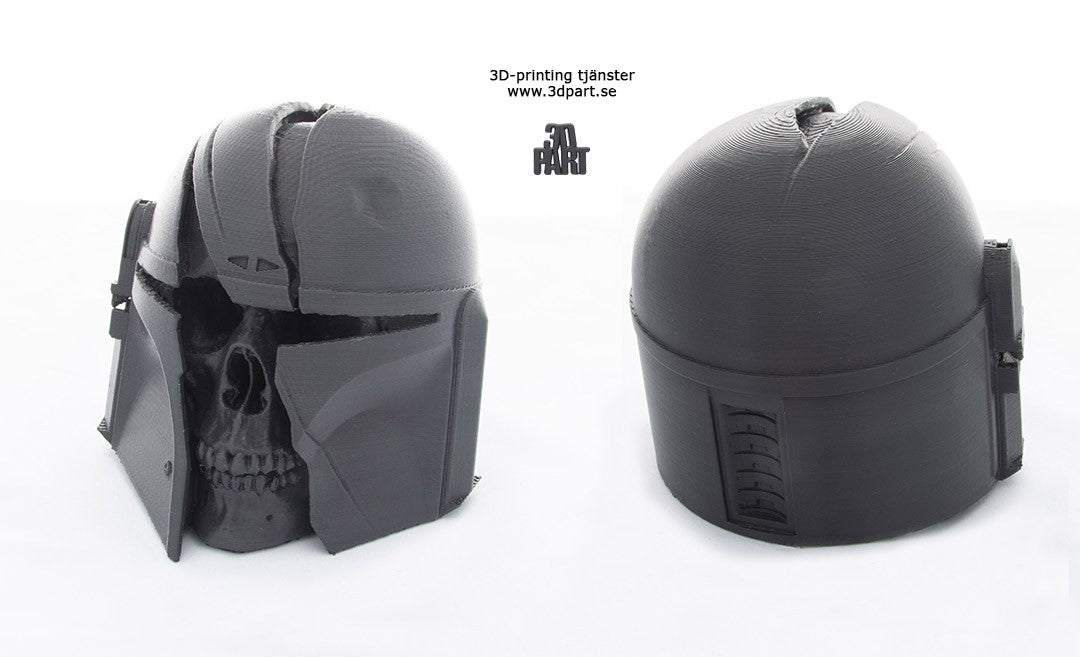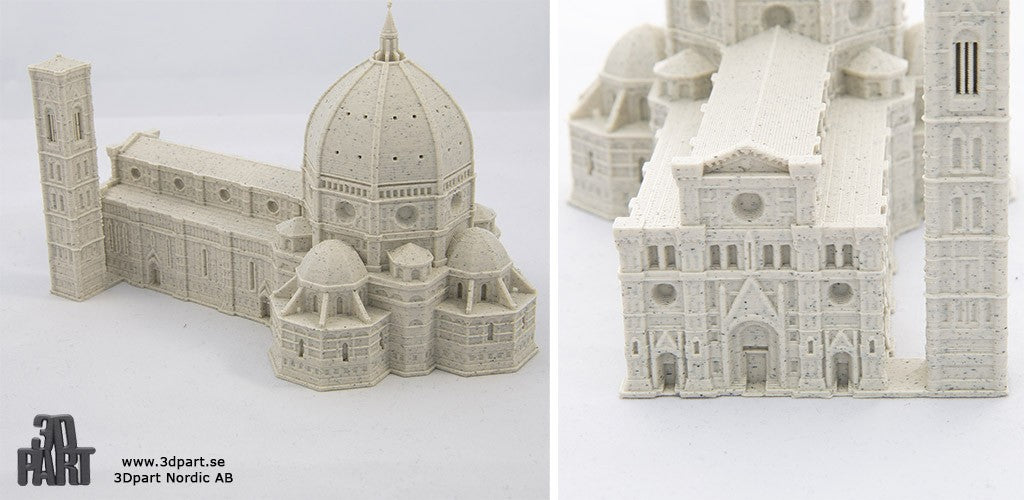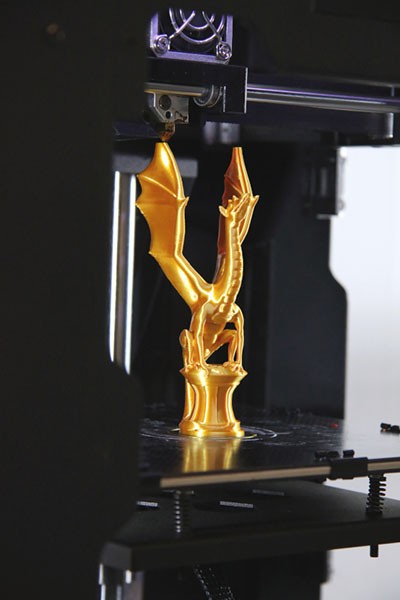 Examples of industries we work with
Architecture & Design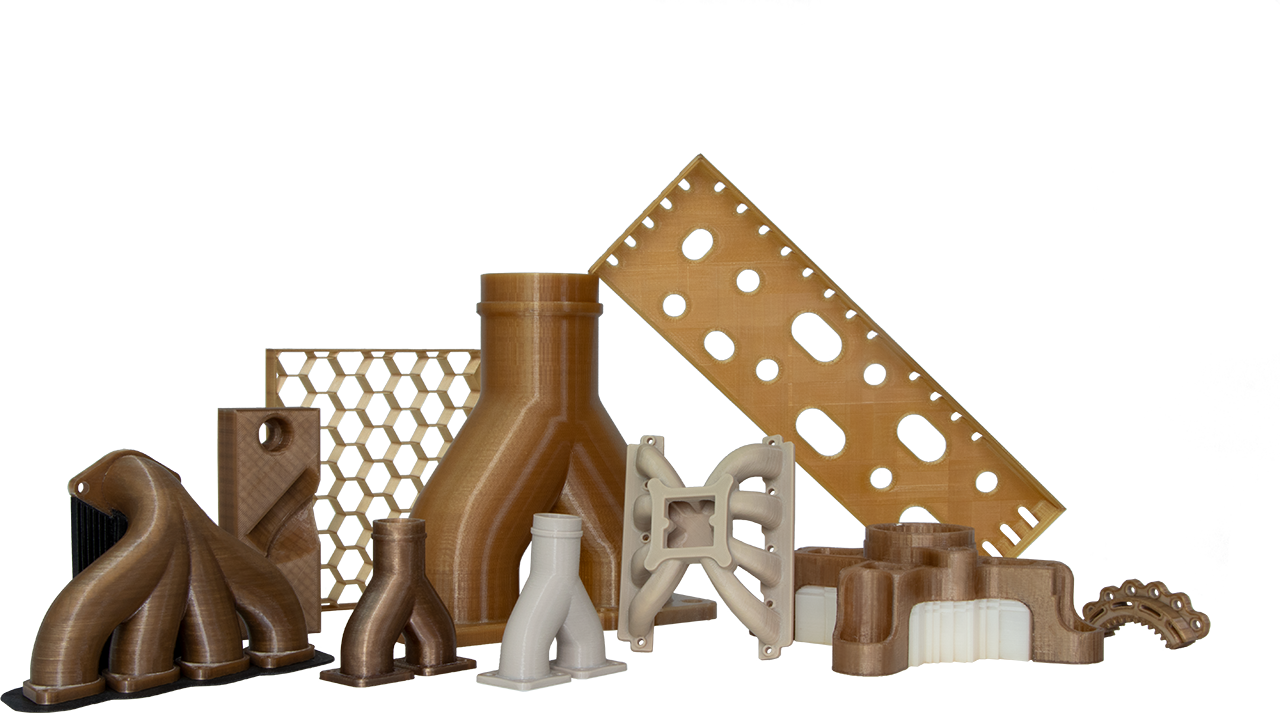 3D-Printing in Ultra-Polymer PEEK,PEI (ultem)
PEEK and PEI have exceptional material properties:
Temperatures up to 250°C
Resistant to chemicals
Flameproof and self-extinguishing
PEEK and PEI can replace metals such as aluminum and also have advantages such as:
Lower weight
Can create complex models
Fast and cost-effective compared to traditional methods (CNC, bending sheet metal, welding, etc.)

3D-Printers we use in production
Intamsys industrial printers

Industrial 3D printers for demanding applications and materials that can handle Ultra-Polymers such as PEEK, PEI (Ultem) etc.

The 3D printers have built-in control for all temperatures and ensure maximum strength on printed models.

Creatbot, Raise3D and more

Various enclosed large format printers for wear-resistant engineering materials such as Nylon (PA), ABS, ASA and more.

Some models have well-controlled ambient temperatures for maximum strength and reliability on models being printed


Formbot, Prusai3 and more

We work with various high-performance 3D printers that have large build volumes.

These are mainly used for large prototypes, molds etc